HexiHashi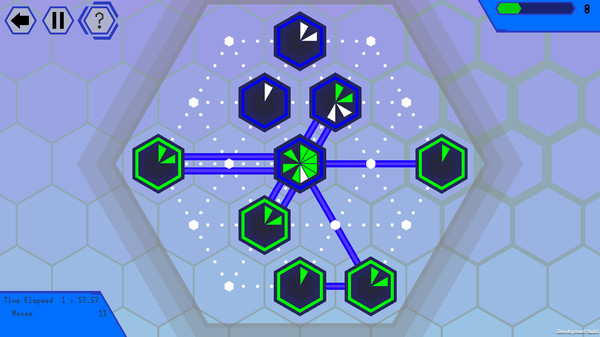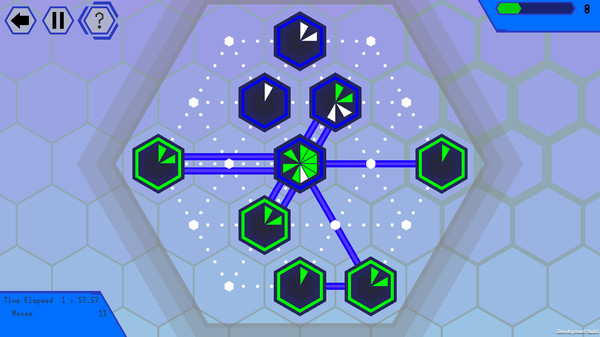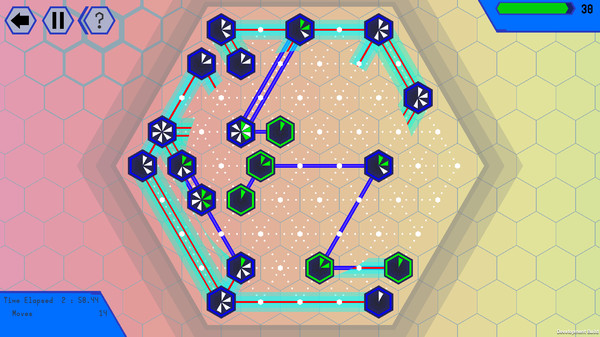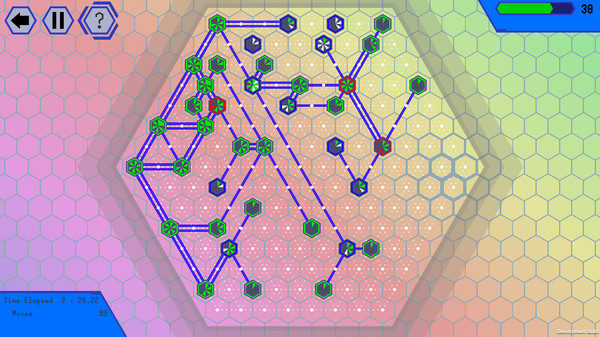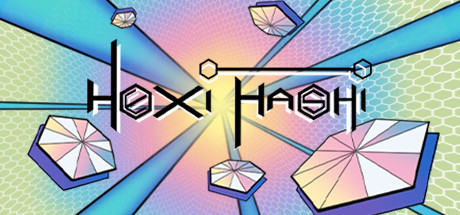 Minimum requirements
Minimum:
OS: Windows XP SP2+

Processor: SSE2 instruction set support

Memory: 120 MB RAM

Graphics: DX9 (shader model 3.0) or DX11 with feature level 9.3 capabilities

DirectX: Version 9.0

Storage: 150 MB available space

Additional Notes: Should be potato compatible
windows, mac, linux
Single-player, Steam Achievements, Stats, Steam Leaderboards
Casual, Indie
19 Jan, 2021
Curator review
This amazing and creative puzzle game is Colorful, Musical and just plain fun. You will be solving puzzles while you pop to the tune. Great for some easy steam achievements. Great game for all ages.
Full review
I recently had the pleasure of playing HexiHashi, a minimalistic puzzle game that is based on the classic puzzle "Hashiwokakero." Let me tell you, this game is an absolute delight!
The gameplay revolves around connecting nodes on a triangular grid using single or double bridges. Each node has a number that indicates how many bridges should be connected to it. The goal is to connect all the nodes correctly so that each node has the exact number of bridges as indicated. It might sound simple at first, but believe me, it gets challenging and addictive in no time.
One thing that sets HexiHashi apart from its classic counterpart is its unique approach with six possible connections per node instead of four. This means relying solely on deductive reasoning won't solve more than 10% of a puzzle (even smaller ones). Instead, gameplay focuses heavily on intuitive heuristics, testing hypotheses, backtracking when needed and tweaking solutions along the way.
What truly impressed me about HexiHashi was its attention to detail and aesthetics. The piano score composed by Steve McRae perfectly complements the gameplay experience, creating an immersive and soothing atmosphere while you work your way through each puzzle. The dynamic sound effects also harmonize flawlessly with the background music.
The variety in game modes adds replayability to HexiHashli; Time Attack challenges you to solve puzzles within certain time limits while Move Master encourages efficiency by limiting your moves. If you're looking for endless puzzling fun without any restrictions or pressure then Endless mode will surely provide great satisfaction.
For those occasions when you find yourself stuck or seeking some guidance without spoiling too much excitement for yourself Hint System comes in handy with visually appealing clues making it cooler than ever imagined! And if you're into leveling up your achievements, HexiHashi has a levelling system that rewards your progress and keeps things engaging.
As I played through HexiHashi, it became evident to me how much thought and effort the developers put into ensuring puzzle solvability. While there may be multiple acceptable solutions for some puzzles, rest assured that each puzzle is generated in a way that guarantees solvability. This allows for endless enjoyment without any frustration associated with unsolvable challenges.
To sum it up, HexiHashli is not only an exceptional puzzler but also a game that brings color, music, and pure fun together. It's suitable for players of all ages and provides a great opportunity to flex your brain muscles while popping along to the tunes in classic Hashiwokakero style. Plus, if you're into collecting steam achievements or love solving puzzles with friends or even their dogs (you never know), then this game definitely deserves your attention! Oh! Did I mention it's only three bucks? Grab yourself two copies because one won't be enough once you start playing!