Gem Wizards Tactics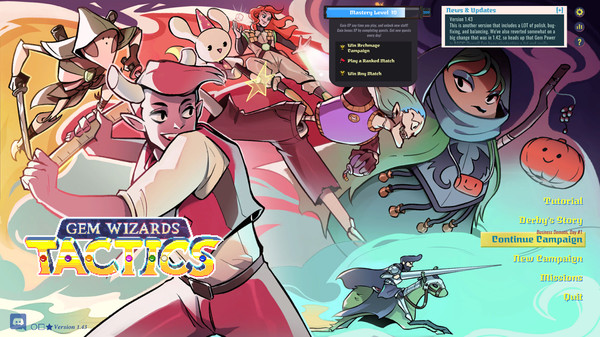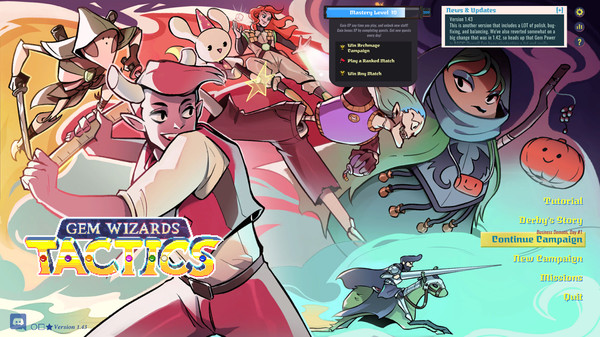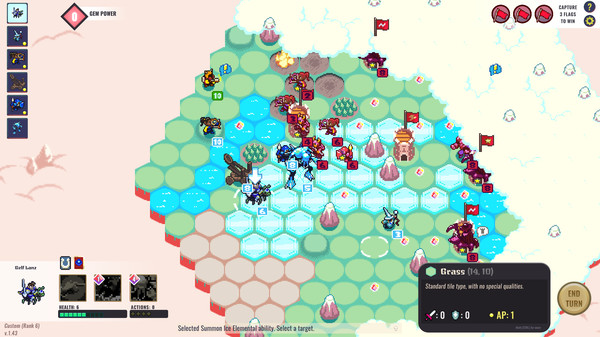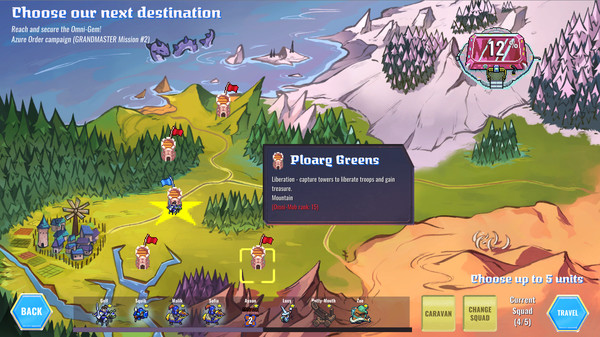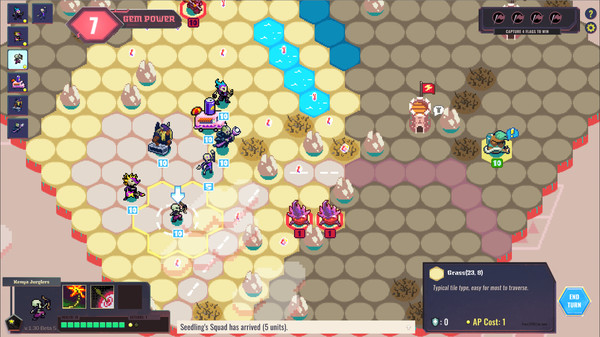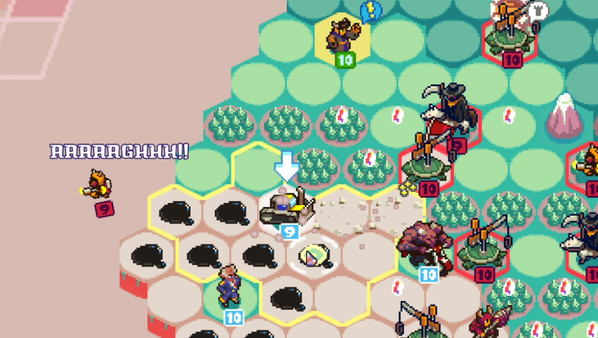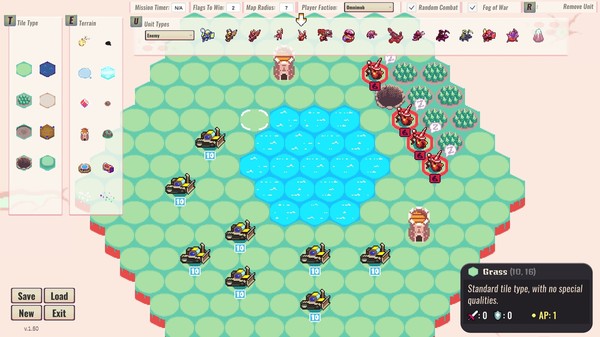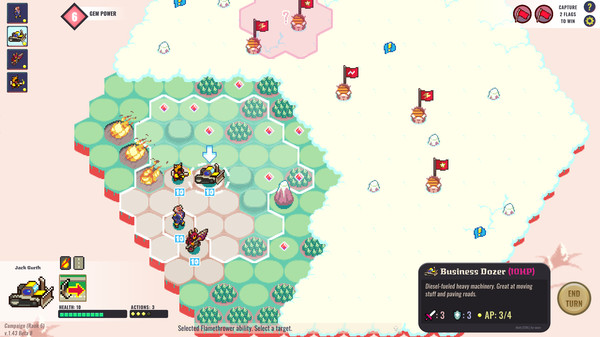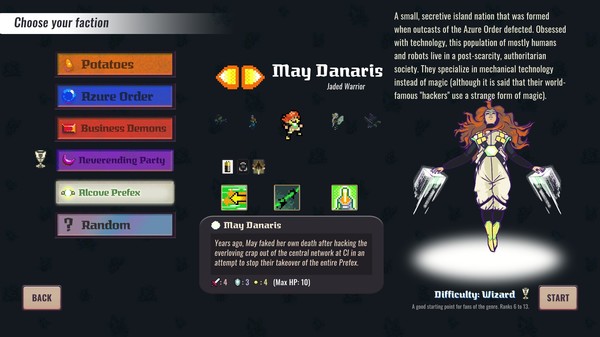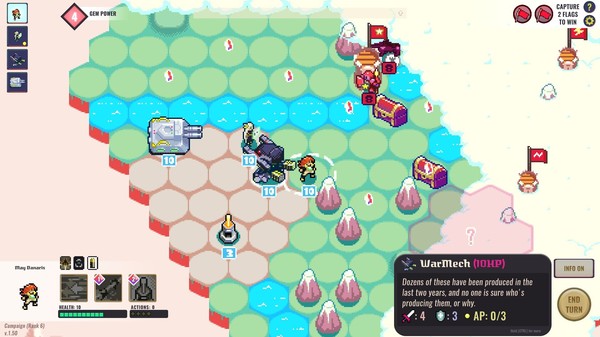 Minimum requirements
Minimum:
OS: Windows XP / Vista / 7

Processor: 2 Ghz

Memory: 1 MB RAM

Graphics: 1280x720 minimum resolution, OpenGL 2.0 Support

DirectX: Version 8.0

Storage: 400 MB available space
windows
Single-player, Steam Achievements, Stats
Indie, Simulation, Strategy
16 Feb, 2021
Curator review
Now this is a turn based tactics game that will really have you thinking. One wrong turn and it could all be over. But all is not lost as the beautiful graphics will keep you playing again & again.
Full review
Gem Wizards Tactics is a deep and complex turn-based strategy game that offers a wicked challenge for years to come. Don't be fooled by its cute art style; this game will put your tactical skills to the test.
A new kind of single-player wargame
In many ways, Gem Wizards Tactics shares similarities with popular games like Advance Wars, Fire Emblem, or X-Com. However, it sets itself apart by offering more emergent and surprising challenges that require adaptive strategies from the players. The objective of each battle is to capture flags while minimizing casualties.
Take tight, puzzle-like tactics in the vein of Into the Breach and 868-HACK, add a big Fire Emblem-style overall package...and you have the new @keithburgun game, and it's great." - Frank Lantz (Director of NYU Game Center)
Gem Wizards Tactics is a whimsical and approachable turn-based tactical game...Super fun." - Designer Plays on Steam
For the most part, every unit is extraordinary which provides an excellent amount of depth when it comes to strategizing." - Turn Based Lovers
The gameplay features five super-asymmetrical factions with their own unique units and abilities that can be combined into weird new strategies. With twenty-six different unit types available (with more being added through free DLC), players can experiment with various strengths and weaknesses.
Features
Wild powers with fun and surprising side-effects! Drill for oil, spray water to create new rivers, freeze the rivers over with ice magic, and push enemies into the holes you've drilled. The tactics in Gem Wizards Tactics are like a wild Rube Goldberg Machine.
Randomly generated maps: Each playthrough offers different map geometry, enemy squads, and rewards for Unit Rescue.
Four distinct factions with lots of asymmetry: Choose from the Azure Order knights, Business Demons who exploit resources and burn terrains, Potatoes who control nature and weather or the Neverending Party of high-energy Skeletons. •The cross-pollination between factions allows for unique combinations of abilities.
Tutorial mode is available to get acquainted with the game mechanics. Story Mode presents a narrative-driven campaign while Ranked Mode adds competitive elements. Custom Games allow players to create their own challenges.
A fully functional MAP EDITOR is included as well as controller support.

The colorful pixel art style combined by an original melodic soundtrack enhance players' immersion in this whimsical universe filled partying undead skeletons bunnies giant bug people - all without compromising on gameplay depth.
Gem Wizards Tactics has already received recognition as "Best Game Design" from Unfold Games Awards. Future updates will introduce additional factions and more gameplay modes. The designer, Keith Burgun (also known for 100 Rogues and Auro: A Monster-Bumping Adventure), is dedicated to providing ongoing developer support through patches, balance changes, and new content. If you enjoy turn-based tactics games that challenge your strategic thinking, Gem Wizards Tactics is a must-play.