Relics of the Lost Age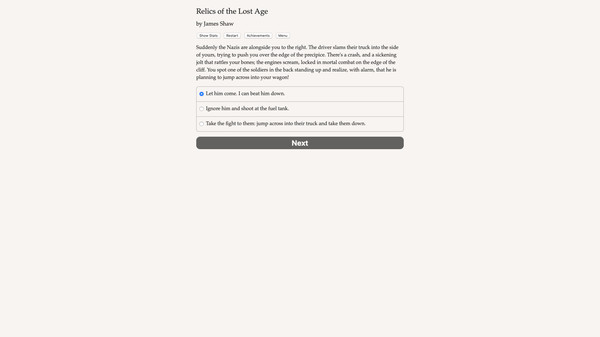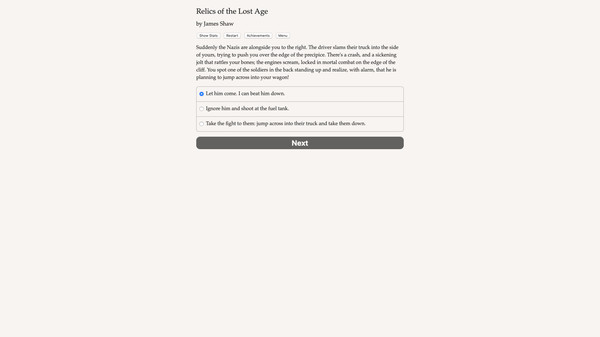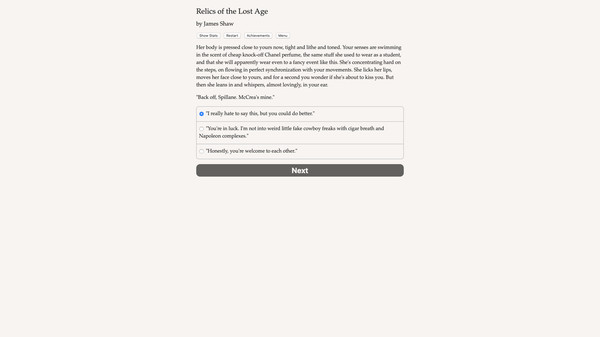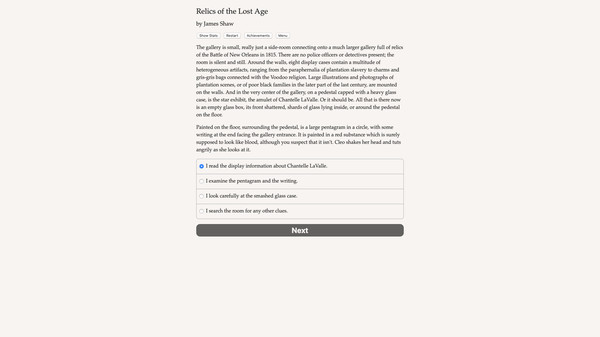 Minimum requirements
Minimum:
Requires a 64-bit processor and operating system

OS: Windows 7
windows, mac, linux
Single-player, Steam Cloud
Action, Casual, Indie, RPG
7 Jan, 2021
Curator review
Great swashbuckling interactive adventure novel that's great fun and a great throwback to classic pulpy action stories.
Full review
Relics of the Lost Age is a thrilling and immersive interactive adventure novel that transports you back to the action-packed world of 1930s archaeology. With its captivating storyline and dynamic gameplay, this game is a must-play for fans of swashbuckling action and classic pulp adventures.
The game begins with a routine dig in Palestine, but quickly escalates into an adrenaline-fueled race against time as you try to beat the Nazis in tracking down ancient relics with unimaginable power. The Third Reich's global mobilization adds an extra layer of tension and urgency to your quest, as you strive to save the world from falling into darkness.
As the protagonist, you have complete control over your choices and actions throughout the game. You can customize your character's gender identity and sexual orientation, allowing for diverse representation within this high-stakes narrative. Whether it's developing romantic relationships with fearless explorers or tormented spies, or forming alliances with intriguing characters from all walks of life, Relics of the Lost Age offers a wide range of options when it comes to shaping your own story.
The meticulously crafted setting takes players on a globetrotting adventure across various locations such as Palestine deserts, Tibetan high passes, Louisiana's political landscape, Congolese jungles,and Hong Kong's dangerous Triad underworld. Each location feels authentic thanks to detailed descriptions that truly immerse players in this bygone era.
The gameplay itself is fast-paced and action-packed - featuring epic gunfights,knuckle-busting brawls,and exhilarating stunts with vintage vehicles.In addition,the mysteries hidden within these engagingaction sequences make them even more enthralling.As you uncover sinister secrets lost for millennia,you'll be forcedto make moral choices regarding historical treasures.Does it belongin museum, or would it be better off in the hands of its originalowners? The decision is yours to make.
In conclusion, Relics of the Lost Age is a brilliant blend of nostalgia and modern interactive storytelling. With its gripping adventure, compelling characters and thrilling gameplay,this game will keep you on the edge of your seat from start to finish. So grab your fedora and whip,because archaeology just got a whole lot more exciting!