Watch Your Plastic Duck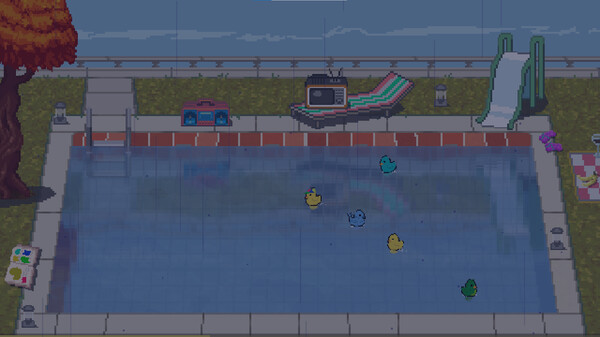 Minimum requirements
Minimum:
Requires a 64-bit processor and operating system

OS: Windows 7

Processor: Dual Core 2.5 Ghz

Memory: 2 GB RAM

Graphics: Dedicated graphics card with OpenGL ES 3 support

Storage: 500 MB available space
windows
Single-player, Steam Achievements, Steam Cloud
Casual, Indie, Simulation
9 Sep, 2022
Curator review
Relax and unwind in your favorite pool, surrounded by rubber ducks. Enjoy the Lofi music and Twitch integration that adds fun to this chill game.
Full review
This game offers a truly relaxing and tranquil experience, allowing you to unwind in your favorite pool while being surrounded by rubber ducks. The spacious pool provides plenty of room for you to lounge and enjoy the peaceful atmosphere.
One unique feature of this game is that you have the ability to give each duck a name. This adds a personal touch and allows you to create a connection with these adorable little creatures.
In addition to the serene setting, there are various events that take place throughout the game, keeping things interesting and adding some unpredictability. Whether it's watching birds flying in the distance or fireflies fluttering around at night, there's always something captivating happening in this virtual oasis.
The comfortable chair provided within the game ensures maximum comfort as you relax and indulge in this delightful experience.
You'll be amazed by the incredible variety of ducks available - not just rubber ones! With 50 different types of ducks featured in this game, each with its own unique characteristics, there's never a dull moment.
Twitch integration takes things up another notch by allowing your audience members' usernames from Twitch chat to be assigned as names for newly appearing ducks. This adds an element of fun interactivity between streamers and their viewers
Changeable time of day further enhances immersion as you can witness stunning transitions from day to night. The soft lighting reflecting off the water surface creates an incredibly cozy ambiance.
For those seeking ultimate relaxation while playing games, Lofi music sets just the right mood to help calm your mind, melodically accompanying each session.
The cherry on top? A giant duck gracefully floating amongst its smaller companions will surely leave you in awe.
If you're looking for a game that allows you to relax, unwind, and enjoy the simple pleasures of life, this poolside adventure with rubber ducks is the perfect choice. With its soothing Lofi music and Twitch integration to add some extra fun, it's an experience that will leave you feeling refreshed and rejuvenated.