Spooky Mansion Manager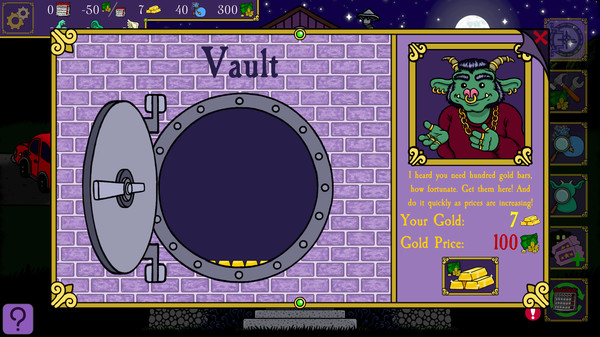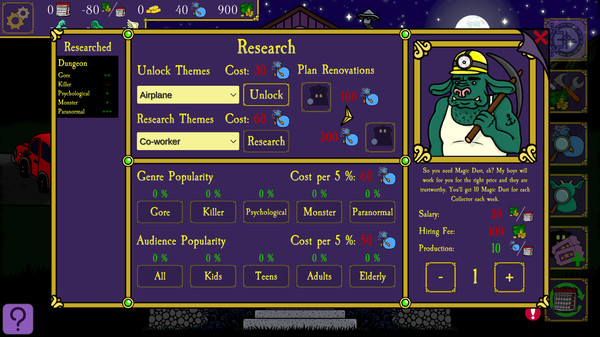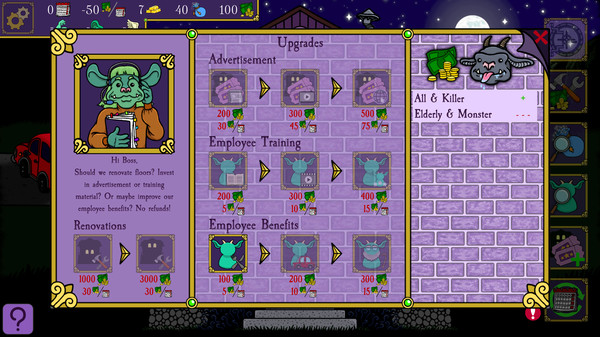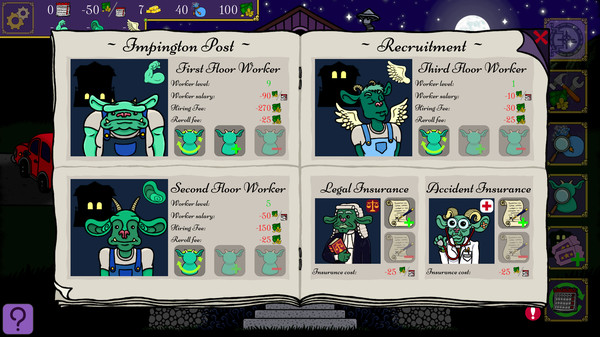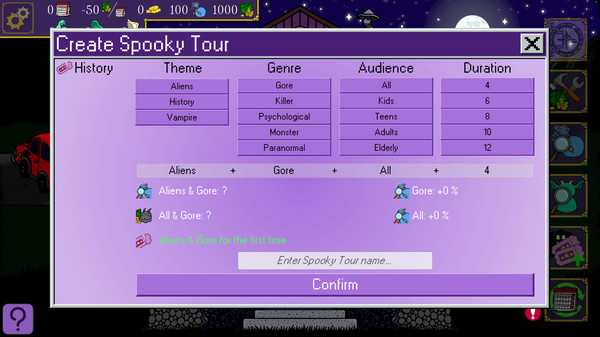 Minimum requirements
Minimum:
OS: Windows 7 Service Pack 1

Processor: Intel Core 2 Duo 2.33 GHz

Memory: 4 GB RAM

Graphics: Geforce 6200 LE or equivalent

Storage: 1500 MB available space
windows
Single-player, Steam Achievements
Indie, Simulation
1 Sep, 2022
Curator review
Inherit your grandpa's business and mansion, and make it a success! Create Spooky Tours, renovate the mansion, and take care of your employees. Don't forget to pay back the loan!
Full review
Spooky Mansion Manager is a unique and captivating game that puts you in charge of inheriting your grandpa's failing business and mansion. Your mission? To turn it into a thriving success! With its exciting features and challenging gameplay, this game offers endless hours of entertainment.
One of the key aspects of the game is creating Spooky Tours in the mansion. You have the freedom to choose various themes, genres, target audiences, and durations for these tours. Researching beforehand will help ensure that your customers are thoroughly pleased with their experience. It's an amazing feeling to see your carefully designed tours come to life!
To stay ahead in the game, you'll need to invest time and resources into research and renovation. Magic Dust plays a vital role here as it provides valuable insights for selecting themes, genres, as well as planning renovations for different parts of the mansion. Although Magic Dust may be costly, its benefits are definitely worth it.
The state of the mansion itself presents an exciting challenge on its own - your grandpa only used one floor for spooky tours! By strategizing smartly and making wise investments, you'll have multiple spooky tours happening simultaneously on each floor before you know it - all contributing towards additional revenue streams.
Your employees play a crucial role in ensuring your success or failure as well. Hiring them is easy enough but nurturing their skills requires substantial investment - both financially and otherwise. Keeping them motivated ensures they stay loyal while providing high-quality service to customers.
In addition to managing all these elements within limited timeframes (hundred weeks), there's also an underlying pressure from having borrowed a hundred gold bars that need repayment within this period – making financial decisions even more critical!
The inclusion of a friendly neighborhood gargoyle adds another layer of intrigue to this already fascinating journey — his localized knowledge can prove highly valuable, but remember, his expertise comes at a cost.
Spooky Mansion Manager offers endless replayability with its randomizable popularity feature. This means that every playthrough will offer a different experience and challenge you to come up with new strategies to succeed. For those seeking an even greater challenge, there's also a hardcore mode available.
In conclusion, Spooky Mansion Manager is an immersive and addictive game that lets you fulfill your grandpa's dreams while creating your path to success. So step into the world of spooky tours, renovations, employees management — everything needed to make this inherited business thrive!