Fairtravel Battle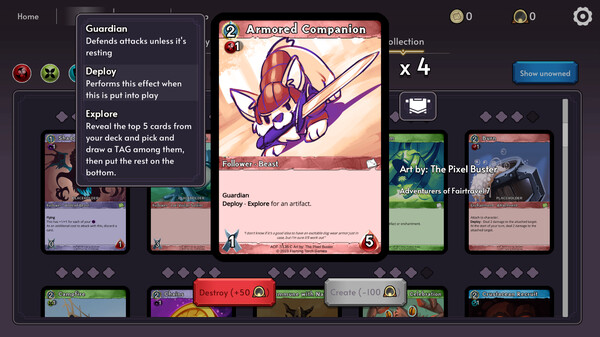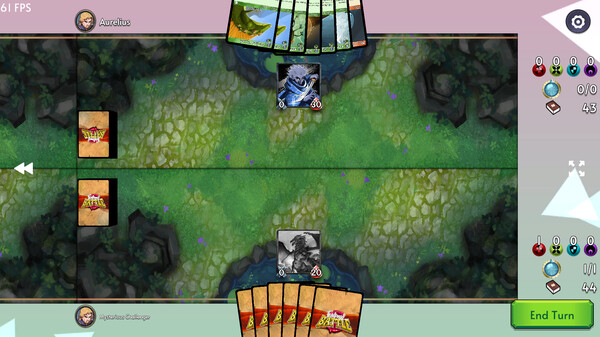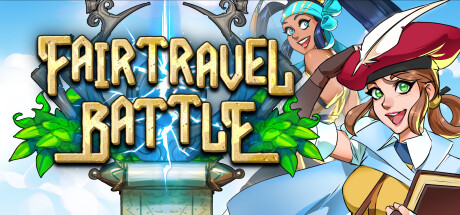 Minimum requirements
Minimum:
Requires a 64-bit processor and operating system

OS: 64-bit Windows 10

Processor: Intel Core i3 2.4GHz

Memory: 8 GB RAM

Graphics: NVIDIA Geforce GTX 1050, AMD RX 540

Network: Broadband Internet connection

Storage: 1 GB available space
windows, linux
Single-player, Multi-player, PvP, Online PvP, LAN PvP, Co-op, Online Co-op, LAN Co-op, Cross-Platform Multiplayer, Steam Cloud
Indie, Strategy, Early Access
To be announced
Curator review
This is an amazing fantasy collectible card game that is easy and fun to play for anyone and everyone. From the art work to the soundtrack to the lack of micro-transactions, this game is stunning.
Full review
Fairtravel Battle is an extraordinary fantasy collectible card game that delivers a unique and flexible gameplay experience. From the moment I entered the enchanting world of Fairtravel, I was captivated by its captivating art style and mesmerizing soundtrack.
One of the standout features of Fairtravel Battle is its innovative resource system. Unlike many other CCGs, this game allows players to build their decks with maximum flexibility and minimal frustration. This gives you the freedom to create your own masterpiece without feeling constrained by rigid deck-building rules.
The variety of game modes in Fairtravel Battle ensures that there's something for everyone. Whether you prefer intense duels, challenging raid boss battles, or strategic draft matches, this game has it all. The option to play with friends online or offline adds an extra layer of excitement to each match.
What sets Fairtravel Battle apart from other CCGs is its commitment to longevity. The developers have designed the game in such a way that it can be played even after official support ends. With options for offline play, player-hosting, and Steam P2P matches against both real players and AI opponents, you can rest assured knowing you'll be able to enjoy this captivating card game for years to come.
If customization is your thing, then Fairtravel Battle has got you covered as well. From modding new cards to replacing textures and effects – there are endless ways for players to make this already fantastic game entirely their own.
A major highlight worth mentioning is that there are no microtransactions for card packs in Fairtravel Battle (excluding cosmetic items). All gameplay content can be obtained through playing the game itself or investing in future DLC expansions which introduce new sets – ensuring fairness without any pay-to-win elements tarnishing your experience.
In conclusion,Fairytale battle is an exceptional fantasy collectible card game that effortlessly combines engaging gameplay, stunning visuals, and a commitment to player satisfaction. Whether you're a seasoned CCG veteran or new to the genre, this game is bound to charm and captivate you from start to finish.