Bloons TD 6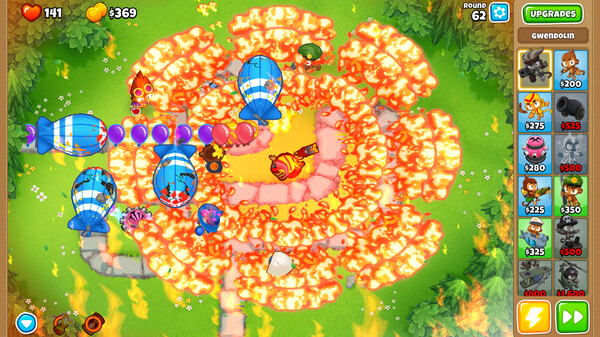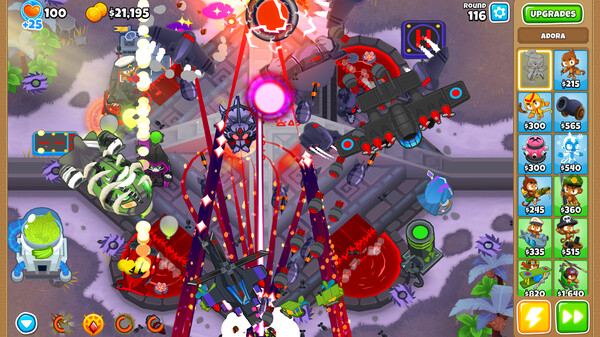 Minimum requirements
Minimum:
Requires a 64-bit processor and operating system

OS: Windows 10 (64bit)

Processor: 1.5Ghz or better (x86-64)

Memory: 4096 MB RAM

Graphics: OpenGL 2.0 compatible, ATI, Nvidia or Intel HD

Storage: 2048 MB available space

Sound Card: Windows compatible sound card
windows, mac
Single-player, Multi-player, Co-op, Online Co-op, Steam Achievements, In-App Purchases, Remote Play on Phone, Remote Play on Tablet
Strategy
17 Dec, 2018
Curator review
Nice TD game but arknights better :3
Full review
Bloons TD 6: A Colorful and Addicting Tower Defense Game
Bloons TD 6 is a highly popular tower defense game that offers countless hours of strategic gameplay. With over a decade of tower defense pedigree, it has become a favorite among millions of players worldwide. The game allows you to craft your perfect defense using powerful Monkey Towers and awesome Heroes in order to pop every last invading Bloon. One of the standout features of Bloons TD 6 is the regular updates that are released throughout the year. These updates bring new characters, features, and gameplay elements to keep things fresh and exciting for players. Additionally, the game introduces Boss Events where you'll face fearsome Boss Bloons that will challenge even the strongest defenses. The inclusion of Odysseys adds another layer to the gameplay experience. You can battle through a series of themed maps with unique rules and rewards as you progress through these exciting challenges. Furthermore, Contested Territory allows you to join forces with other players in an epic battle for territory against five other teams on a shared map. Quests offer an opportunity for players to delve deeper into what makes the Monkeys tick by providing tales and knowledge about their world. The Trophy Store gives players targets to aim for as they earn Trophies which can unlock numerous cosmetic items such as customizable animations, music, skins, and more. With 23 different Monkey Towers each having three upgrade paths along with unique activated abilities, there's plenty of variety when it comes to building your defenses effectively against those relentless Bloons attacks! Paragon upgrades also provide incredible powers that enhance your towers even further. The addition of 14 diverse Heroes further expands your tactical options as they come with signature upgrades and special abilities unique only to them – not forgetting unlockable skins and voiceovers! For multiplayer enthusiasts or cooperative gamers who prefer playing together with friends or strangers alike in public or private games, Bloons TD 6 introduces 4-player Co-Op gameplay. This means you can enjoy every map and mode with up to three other players, making teamwork an essential part of your tower defense strategies. With 68 handcrafted maps currently available (and more being added in updates), exploring each one brings its own set of challenges and rewards. Monkey Knowledge offers over 100 meta-upgrades that allow you to add power where it's needed most in your strategy. In terms of progression, Powers and Insta Monkeys are earned through gameplay, events, and achievements. These provide a quick boost for those tricky maps or game modes when you need that extra firepower to overcome tough obstacles. The developers at Ninja Kiwi demonstrate their commitment by continuously packing each update with new features, content expansions, balancing improvements along with addressing player feedback – all fueled by the support they receive from players like yourself. While Bloons TD 6 is undeniably a fantastic tower defense experience offering countless hours of addictive fun, claiming it as the best strategy game ever played might be subjective for some. However, it is worth emphasizing that Ninja Kiwi values player feedback immensely. So if there are any areas where they can improve upon or suggestions to make the game even better than it already is; definitely reach out to them via their support page found at https://support.ninjakiwi.com. Now grab your darts and embark on an adventure filled with colorful bloon-popping action as you immerse yourself in the vibrant world of Bloons TD 6!